Get first come, first serve unsold CD "Mamoritai Hito" by joining Yaeryu fan club at 1st Japan Tour or introducing friends to the club.
1st Japan Tour starts from 12 Sep at Kawasaki CLUB CITTA and held in 10 venues in Japan!
You can enroll the fan club and also introduce your friends to the club at a fan club booth.
Person who haven't applied for the club yet and decide to be a new member at the venue! You will receive unsold CD "Mamoritai Hito", which is a theme song of the fun club written by Machiya for a first arrival limited.
In addition, you can get a post card which also can be a lottery ticket to meet the members!!
If you find a word "INVITATION" on a back of a post card, that would be the invitation to the back stage!
For whom already a member!!
If you introduced your friends as a new member, you can also receive on first come, first serve the unsold CD "Mamoritai hito"!!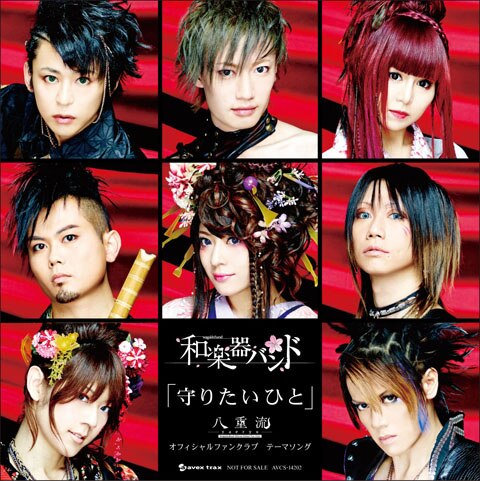 ※"Mamoritai Hito" is a premium tune that would not be recorded to a sold CD forever!
◆Annual Fee 3,200yen.
※Note that you need to pay extra commission fee for 500yen.
【PLEASE NOTE】
※
New member's present will be only for a person who pay by cash at a concert venue. If you already paid entrance fee at a fun club website, you cannot receive presents.
※Only the principle can apply for the club at the venue.
※To join the fun club, you will proceed with your phone or Smartphone at a "exclusive site only for the venue" that fan club booth provide.
※Please pay annual fee after the procedure by cash.
※We only accept cash for the fee.
※A minor can also apply if the principle do all procedure. However, we assume that a minor got their person in parental authority's agree.
※To introduce your friend to the club, please come to the booth together when your friends enroll to the fan club. It is a condition to receive a present.
※For 1 person who enroll to the fan club, only 1 member is available.
※Please show your digital membership card when you introduce your friends.
※When you enroll to the club, you need a phone or smartphone for the procedure.
※Privileges are limited. Privilege ends when the stock is out. Please be aware.
<Opening Hours of a Fan Club Booth>
12th Sep, Sat: 15:00~ Kawasaki CLUB CITTA'
13th Sep, Sun: 15:30~ Niigata LOTS
20th Sep, Sun: 14:30~ Sapporo Penny Lane24
22nd Sep. Tue: 14:30~ Sendai Rensa
23rd Sep, Wed: 14:30~ Kooriyama HIP SHOT JAPAN
26th Sep, Sat: 15:30~ Fukuoka IMS Hall
27th Sep, Sun: 14:30~ BLUE LIVE Hiroshima
2nd Oct, Fri: 16:00~ Nagoya Diamond Hall
3rd Oct, Sat: 15:00~ Oosaka Dojima River Forum
11th Oct, Sun: 14:30~ Hibiya Yagai Ongakudou
※There's a possibility of changing Opening hours.